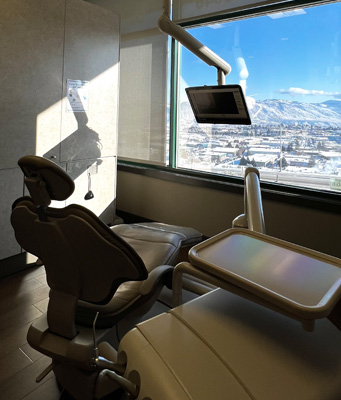 Our priority is to create a fantastic experience for our patients. We're focused on providing top-quality dental care in a friendly and comfortable clinic environment.
Since we opened in 2004 we've worked together with our patients to help them make good decisions about their dental health care. Personalized and compassionate treatment is our standard of care and your satisfaction is our measure of success.
Technology
We use advanced technology to provide you with the most comfortable and efficient dental care possible.
Digital X-ray
Digital X-rays provide HD images using 90% less radiation than traditional (film) X-rays. Plus, we can show you your x-ray pictures on a computer screen right beside the chair. Digital X-rays images can also be sent electronically to insurance companies, dental labs, or specialists for faster, more efficient service.
Soft Tissue Laser
The soft tissue laser lets us move gum tissue when placing crowns and other restorations. We also use the laser to assist when we're taking impressions for crowns and bridges.
Panoramic X-Ray Machine
The panoramic X-ray allows full digital scans of upper and lower jaws, including wisdom teeth to take a complete picture of your mouth. This picture lets us see missing teeth, wisdom teeth and other areas of your mouth that aren't as visible with regular X-rays. We use these images to aid in diagnosis and dental implant placement.
Intra-Oral Photography
This fun technology lets us display live images of the inside of your mouth on the TV screen at your dental chair. The small oral camera takes images of areas of concern, such as cavities, broken teeth, infection and oral lesions.
Laser Cavity Detection (Diagnodent)
Diagnodent uses laser technology to measure the density of teeth on their biting surfaces to reveal early signs of cavities. Early detection allows for much less invasive treatments, allowing you to maintain the integrity of your tooth.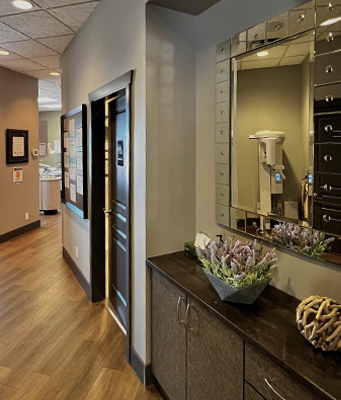 Insurance & Fees
Our fees are based on the expertise, time, materials and technology required to create solutions to your dental health needs.
Payment for dental services is due at the time the services are provided. Options for payment include insurance assignment, cash, personal cheque, debit, Visa or MasterCard.
Your dental health needs are our number one concern and we make every effort to provide you with treatment options to fit your needs and means.
Your dental needs are not dictated by your dental insurance plan. And although we make every effort to honor insurance limits, we will not compromise your care and treatment to do so.
Due to the Freedom of Information Act, we are also not always aware of your specific insurance limits. Any services (or portions of services – most plans pay 80%) that are not covered by your insurance plan are your responsibility to purchase at the time of treatment.
We remind you that it is also your responsibility to provide us with your family's current and accurate insurance information. Our team will work with you to understand your insurance limits and to help you make dental health decisions that complement your means and enhance your personal well-being.
The Freedom of Information Act
Due to the recent implementation of the Freedom of Information Act, our role with your insurance company has changed.
Dental providers can only obtain the most basic information with respect to patient dental plan and benefits. This restricts our ability to investigate the details of your plan on your behalf and puts you in charge of managing your dental benefits.
Please speak to our dental reception staff about your specific plan. We can explain our limitations and can help guide you in the management of your insurance coverage.